---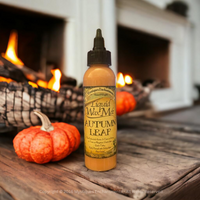 Embrace the Enchantment of Autumn with Our Autumn Leaf Aroma Liquid Wax Melt!  

Celebrate the cozy and magickal season of autumn with our Autumn Leaf Aroma Liquid Wax Melt. Immerse yourself in the captivating aroma that captures the essence of crisp fallen leaves and the warm embrace of the changing season, infusing your space with the enchantment of autumn.
Let the earthy notes of autumn leaves transport you to a world of comfort and nostalgia, while hints of warm spices evoke the aroma of freshly baked treats. The carefully selected blend of scents has been crafted to resonate with the magick of the Mabon season, offering you a moment of enchantment.
Watch as our liquid wax melt transforms into an inviting mist, releasing the cozy autumn leaf fragrance into your surroundings. Whether you're seeking to create an atmosphere of Autumn magick or simply relish the beauty of this season, our Autumn Leaf Aroma Liquid Wax Melt is your pathway to an enchanting autumn experience.
Elevate your space with the captivating allure of our Autumn Leaf Aroma Liquid Wax Melt. Order now and immerse yourself in the enchanting aroma of autumn's embrace. Embrace the coziness and magick today!
These 120ml potion bottles are equivalent to 6 large solid heart wax melts, making it better value for money! We find a small amount goes a long way.
This is a clean & convenient way of keeping your Wax Melts at home or taking them with you travelling or weekends away.
Cleaning your burner is so easy & cleaner now as well, simply wipe easily out of your burner once cooled.
Exclusive To Us Made By Us Just For You
Copyright © 2016 Mystiques Enchantments. Any illegal reproduction of this content will result in immediate legal action.