---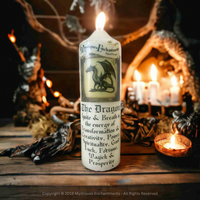 Unleash the fierce wisdom of The Dragon Spirit Animal Candles.
Crafted for those who seek the silent fire of the dragon's ancient power, these candles are a tribute to nobility and strength. Ignite & breath in the untamed energy as it guides you through your quest for enlightenment and power.
Size: 16.5cm x 5cm
Burn Time: 36 hours
No Scent
Exclusive To Us Made By Us Just For You 
Copyright © 2016 Mystiques Enchantments. Any illegal reproduction of this content will result in immediate legal action.