---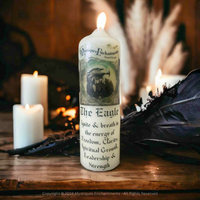 Soar to new heights with The Eagle Spirit Animal Candles.
These candles embody the majestic essence of the eagle, offering clarity and a higher perspective. Each flame ignites the encouraging energy to rise above the mundane and embrace the vision and freedom of the eagle's spirit on your journey to self-discovery.
Size: 16.5cm x 5cm
Burn Time: 36 hours
No Scent
Exclusive To Us Made By Us Just For You 
Copyright © 2016 Mystiques Enchantments. Any illegal reproduction of this content will result in immediate legal action.