---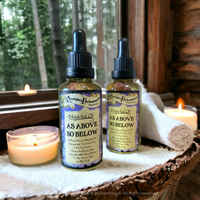 Infused with the Energy of The Forest as well as a Black Obsidian Crystal.
A powerful potion full of Natural ingredients that protects & helps heal your skin. Full of antioxidants, Vitamin A D & E, skin balancing oils, oils to help stop water loss, protects, moistures & so much more.
Apply morning Day & Night using the dropper, place a small amount in the palm of your hand or the area you would like to Enchant. Massage this nourishing potion in as it leaves your skin feeling like silk while breathing in the perfect Aroma of Rosewood to help release what doesn't serve you.
Exclusive To Us Made By Us Just For You 
Copyright © 2016 Mystiques Enchantments. Any illegal reproduction of this content will result in immediate legal action.