---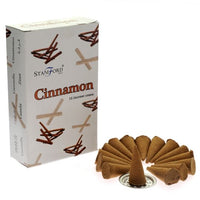 Rich and spicy with a hint of sweetness, these Stamford Cinnamon Incense Cones fill your home with beautiful fragrance. This inviting scent is perfect for entertaining friends and family or simply relaxing at home.
Stamford Incense Cones let you create the perfect mood for relaxation, entertaining and a truly stylish home. With every scent from Aloe Vera to White Musk, Stamford has something perfect for everyone.
Simply light the tip your Stamford Cinnamon Incense Cone and wait for it to glow. Then blow out the flame and place in an incense holder for beautiful fragrance throughout your home.
• Pack of incense cones and metal holder
• Contains 15 incense cones approx
• Made from perfumery raw materials only
• Recyclable packaging
• Burn time 20 minutes approx. per cone
• For best results place it on incense holder