---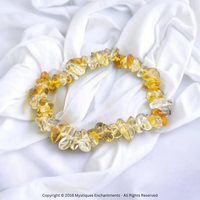 Citrine Bracelet is worn to promote wealth and abundance. It is a stone of prosperity that can attract good luck, success, and happiness into your life.
For this reason, it is often called "The Lucky Merchant's Stone."
As a stone of manifestation, citrine also helps you to turn your dreams and desires into reality.
Its solar quality of energy is also said to inspire self-esteem and positive thinking.