---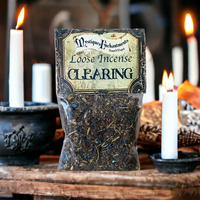 Your secret weapon against stale and negative energy.
Ignite the power of positivity and banish negativity from your space.
Perfect for refreshing your home, workspace, or sacred areas.
Elevate Your Rituals & Everyday living with Our Loose Incense range.
Discover a blend of pure resins, botanicals, and oils within each one. Experience the enchanted essence of nature's gifts that's genuine, magickal, and potent. Dive deep into ancient rituals and authentic energy of these natural Blends. .
Don't just burn incense—feel its power as you Choose tradition, potency, & purity. All hand crafted with Magickal intent using our Authentic Family Grimoire.
Free from fillers, binders & chemicals.

Ignite your senses, purify spaces, and embrace authentic aromas. Choose purity. Choose our loose incense.
Size: 25g
Exclusive To Us Made By Us Just For You
Copyright © 2016 Mystiques Enchantments. Any illegal reproduction of this content will result in immediate legal action.