---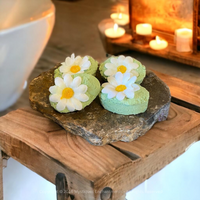 Accompanied by the amazing Aroma of Our luxurious Daisy Fragrance Oil. This much loved fragrance is very similar to the well known lady's perfume. A perfect blend of a rich of Wild Strawberries, Red Grapefruit, Violet Leaves, Gardenia, Jasmine, Musk, Vanilla and White Wood. They all combine and complement each other to recreate that much loved Daisy Fragrance.
Our Bath Melts are packed full of a concentrated blend of The finest ingredients that will detoxify your skin & help repair skin damage and speed healing & improves elasticity. Leaving your skin hydrated and nourished.
Exclusive To Us Made By Us Just For You
Copyright © 2016 Mystiques Enchantments. Any illegal reproduction of this content will result in immediate legal action.