---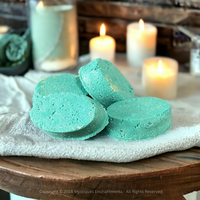 Bathing in Florida Water is a practice in many spiritual and cultural traditions. We have now added our Authentic Magickal Florida Water to our Deeply Moisturising & Healing Bath Melt For Spiritual Cleansing, Sense of well-being, Preparation for Rituals , Attracting Positive Energy, Clearing and washing away unwanted energy.
Absorb the Magickal Energy & Pure Intentions of bringing Calmness To Enchant your Mind Body Soul & the Witch Within. Then Release what doesn't serve you as the Charged Waters wash it away.
Perfectly Balanced, Perfectly Magickal Perfectly You.
Our Bath Melts are packed full of a concentrated blend of The finest ingredients that will detoxify your skin & help repair skin damage and speed healing & improves elasticity. Leaving your skin hydrated and nourished.
Exclusive To Us Made By Us Just For You
Copyright © 2016 Mystiques Enchantments. Any illegal reproduction of this content will result in immediate legal action.