---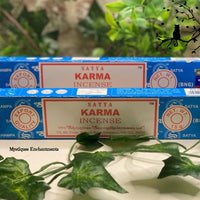 Unwind and refresh your spirit with the soothing aromatic fragrance of Karma. A fragrance that is specially prepared to enhance the functioning of our own karmic balancing. Therefore perfect for meditation & yoga practices! Heal your body, mind & soul with this warm yet refreshing smell. Envelope yourself in the intoxicating scent of Karma and let this cleansing aroma bring balance.
Satya Incenses are made in India, from the producers of the most popular incense in the world. These fine quality incense sticks are slow burning, produce a long lasting fragrance and are made from natural extracts.
Place an Incense Stick in a proper Incense Burner that is heat resistant.

Light the tip of the Incense Stick, allow the flame to catch, then gently blow the flame out.

Never leave burning Incense Sticks unattended.

Keep out of the reach of children.

Ensure that all ashes fall onto a heatproof and fireproof surface.
Approx 12 sticks
ANY 6 INCENSE FOR £10 WILL BE DISCOUNTED AT CHECKOUT