---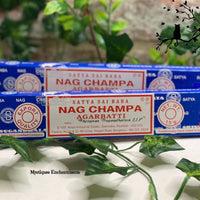 Nag Champa is a hand-rolled blend of flowers, spices, and resins, and each stick burns for about 45 minutes. The natural ingredients, herbs, resins and masala are blended to perfection to create a soothing aroma. This aromatic incense with its sweet, yet earthy fragrance will enhance any mood or environment.
Place an Incense Stick in a proper Incense Burner that is heat resistant.

Light the tip of the Incense Stick, allow the flame to catch, then gently blow the flame out.

Never leave burning Incense Sticks unattended.

Keep out of the reach of children.

Ensure that all ashes fall onto a heatproof and fireproof surface.
Approx 12 sticks
ANY 6 INCENSE FOR £10 WILL BE DISCOUNTED AT CHECKOUT