---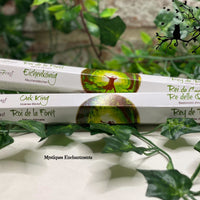 Stamford Oak King Incense Sticks will allow you to sit back, relax and enjoy the subtlety of White Sage aromas as the incense infuses the air around you.
Stamford Incense Sticks let you create the perfect mood for relaxation, entertaining and a truly stylish home. With every scent from Aloe Vera to White Musk, Stamford has something perfect for everyone.
Simply light the tip of your Stamford Hex Oak King Incense Stick and wait for it to glow. Then blow out the flame and place in an incense holder for beautiful fragrance throughout your home.
• Stamford Oak King Incense Sticks
• Pack of cored incense sticks
• Contains 20 incense sticks approx
• Burn time 30 minutes approx. per stick
• For best results place in an incense holder
• Made from perfumery raw materials only
• Packaging is recyclable  
Never leave burning Incense Sticks unattended
Keep out of the reach of children.
ANY 6 INCENSE FOR £10 WILL BE DISCOUNTED AT CHECKOUT