---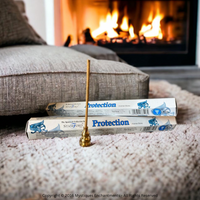 Stamford Hex Protection Incense Sticks will allow you to sit back, relax and enjoy the subtlety of this fragrance and aroma as you let the incense infuse the air around you.
Protection incense is also helpful in removing and protecting against negative energy.  It can also help fill the chakras with positive energy.
Simply light the tip of your Stamford Hex Protection Incense Stick and wait for it to glow. Then blow out the flame and place in an incense holder for beautiful fragrance throughout your home.
Scent: Red Rose
Hand rolled top quality incense, resins and plant material
Each individual pack contains 20 sticks
Burn time: 20-30 minutes each
Cruelty Free
Vegan Friendly
Approximately 23cm long
Never leave burning Incense Sticks unattended
Keep out of the reach of children
ANY 6 INCENSE FOR £10 WILL BE DISCOUNTED AT CHECKOUT