---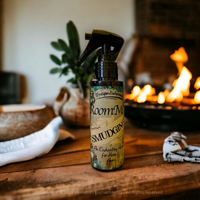 Sacred smudge spray is the smokeless, pure alternative to burning sage. Whether you need to change the energy or just lighten the air, or even calm your energy around you, this wonderful aroma of this spray creates a clean and blessed atmosphere. 
Liquid Smoke for protection blended with sacred oils dominated by Sage.
Exclusive To Us Made By Us Just For You
Copyright © 2016 Mystiques Enchantments. Any illegal reproduction of this content will result in immediate legal action.