---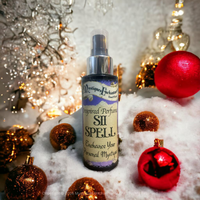 Discover the essence of modern femininity with our Sii Inspired Perfume. This elegant fragrance is a harmonious blend of sophisticated chic and bold intensity, perfect for the woman who says yes to life's infinite possibilities. With its luxurious notes of deep blackcurrant nectar, airy florals, and musky blond wood, it embodies the balance of grace and strength.
Each spray is a statement of elegance and confidence, ideal for both everyday wear and special occasions. Indulge in the allure of our Sii Inspired Perfume, a scent that captures the spirit of the contemporary woman - strong, charismatic, and effortlessly chic.
Exclusive To Us Made By Us Just For You
Copyright © 2016 Mystiques Enchantments. Any illegal reproduction of this content will result in immediate legal action.