---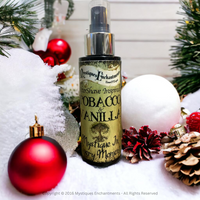 Indulge in the rich, intoxicating blend of our Tobacco and Vanilla Inspired Aftershave. This exquisite formulation captures the essence of timeless sophistication with its warm, deep notes of aged tobacco and the sweet, comforting aroma of vanilla.
Perfectly balanced, it provides a luxurious and memorable scent that is both bold and inviting. This aftershave is a statement of elegance and allure. Embrace a scent that is as distinguished as you are. Mystique is every moment.
Exclusive To Us Made By Us Just For You 
Copyright © 2016 Mystiques Enchantments. Any illegal reproduction of this content will result in immediate legal action.