---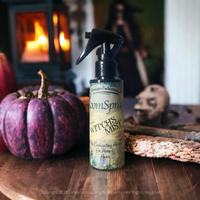 Witches Mist is an Enchanted Blend of the Forest Floors Essence & Pure Magickal Energy that can be used for purposes such as grounding, connecting with nature, invoking forest spirits, enhancing magickal energy, or creating an enchanted atmosphere. For your sacred space or aura, perfect for the little witch in us all.
Exclusive To Us Made By Us Just For You
Copyright © 2016 Mystiques Enchantments. Any illegal reproduction of this content will result in immediate legal action.