---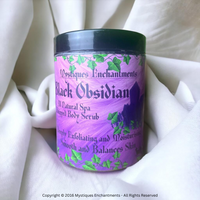 Protect & Detoxify
Black Obsidian is the ultimate protection stone & you will find your very own Crystal on top of your Magickal Scrub. Our Whip is infused with this energy to help to clean and protect your aura from negative energy, mental stress, tension and psychic attacks. To promote further releasing and shielding. Because this stone is associated with your root chakra, it can offer powerful grounding qualities that make you feel more clear, balanced and secure. It can also help to tighten pores, balance your skin tone, cleanse and remove toxins and impurities from your skin, and leave you feeling refreshed..
The perfect way to Exfoliate and Nourish your skin with this revitalising and gentle body scrub. The Shea Butter removes dead skin cells for a smooth, polished skin, while Our Natural Oils and Exfoliating Beads helps leave skin feeling silky soft, younger & Glowing
Our whipped is the perfect blend of butter, Dead Sea Salt, Natural Exfoliating Beads, Natural Oils & a touch of Magick which is perfect for all year when skin gets tired with the ever changing conditions. Using our whipped body scrub regularly will help keep skin soft and smooth all year long.
Exclusive To Us Made By Us Just For You