---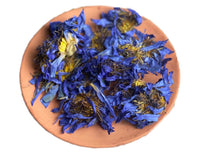 The Perfect Flower for Your Mind Body & Soul.
Blue Lotus (Nymphaea Caerulea) is revered for its immense benefits on physical, mental & Spiritual journey. It is also known as Blue Water Lily and is the Sacred Lily of the Nile, and is an incredible plant that can be used to open your mind & soul. The perfect symbol of balance as it absorbs the power of As Above So Below.
Indulging in Blue Lotus as a tea is the most traditional way to experience this dreamy Flower. Taking a few sips of the tea is great before bedtime or before your meditation practice as you relax the mind and body while opening up consciousness and sensory capacity. Allow your Crown Chakra & Third Eye to open & connect.
Steep the dried Blue Lotus in boiled water for 10-15 minutes, making sure you breath in deeply the fragrant oils that come from the flower.
Blue Lotus is a visionary plant used for connection & dream work that would take ancestors to higher realms, increasing intuition and astral dreaming capabilities.
Benefits of Blue Lotus:
Has antioxidant properties
Promotes Deep Relaxation 
Supports Mental Function 
Acts as an antibacterial agent
Psychoactive Effects
Helps With Sleep 
Lucid Dreaming 
Spiritual Connection & more
It should not be taken during pregnancy or if you have certain allergies. If you are on other medications, then it should be consumed only after a consultation with your medical professional.
One flower typically makes 2- 3 cups of tea.