---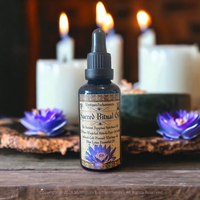 Blue Lotus Absolute Oil is from the Magickal Flower of intuitive ascension. The Blue Lotus is one of the Highest Frequency Plants on Earth. It's Positivity in a Bottle & it Raises Your Frequency to the highest level giving you the Uplifting vibration & Connection as it opens your intuition. It's also A wonderful meditation aid, opening & Balancing Chakras (specifically the Third Eye) and dispelling negative emotions and thoughts, aiding one on their spiritual path. As an authentic aphrodisiac, Blue Lotus is euphorically relaxing and used widely for promotion of sexual desire, ecstasy, and euphoria.
If your Ready to Transform Yourself Within & Without Make this Magickal Massage Oil part of your Daily Ritual, for Spiritual Growth & Connection & for your Skin Care Regimen
Our Pure Blue Lotus Essential Oil is blended with Pure Moringa Oil, which is one of the most nutrient dense oil in the world. This Perfect Blend penetrates deeply into all layers of the skin to leave your face & body feeling fresh & alive & connected. Use from head to toe as you breath in the Sacred Aroma, it is so intoxicating.
The Blue Lotus has long been regarded as sacred by many of the worlds cultures & it is held to be a symbol of the Universe itself.
Absorb the Magick Today.
Skin Benefits:
Relief from skin issues including dermatitis, psoriasis and eczema
Anti-aging face oil for anytime
Anti-acne treatment
Anxiety relief and mood enhancer
Excellent moisturizer for all skin types
Meditation and spiritual journey
Eyebrow and eyelash thickener
Aftershave care,
Beard tonic
and much more...

Exclusive To Us Made Magickally By The Hedge Witch