---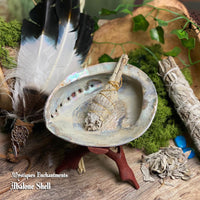 Some cultures believe that abalone shells carry healing energies of protection and emotional balance, and are symbolic of the element of water during a four element ritual.
The shell is used to catch smouldering embers safely from your burning smudge stick. You can either carry it around with you as you smudge your sacred space, or simply rest your smudge stick before, during, and after your cleansing ritual.
All of our abalone shells have been ethically harvested and cleaned without the use of any harmful chemicals.
Abalone Shells are also useful for holding crystals or trinkets, or just as decorations on their own.
Size: 15cm - 19cm
Being a natural product shapes & sizes may vary