---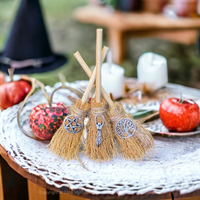 With this Broom
I sweep away All Negativity
That comes My Way
Broom with The Tree of Life , which Is a symbol that reminds us that everything is connected. The tree roots down into the earth, reminding us we are nourished and supported by Mother Earth.
Broom with the Pentagram Triple Moon, this symbol represents the waxing, full, and waning moon and is also a reminder for us to embrace the power of 3, as seen in the maiden, mother, and crone. The Pentagram draws protection to you
Broom with The Goddess.
Is a symbol that's used as a sign of life. The spiral represents the ever continuing cycle of life, death, and rebirth. Represents raw feminine power.
Exclusive To Us Made By Us Just For You