---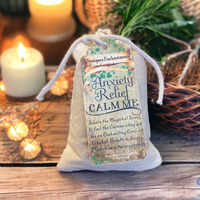 If you're struggling to cope with day to day tasks or finding it difficult to tackle each day head-on, this is the blend for you. The carefully selected combination of Pure Essential Oils, Natural Herbs & flowers that will assist in reducing issues caused by anxiety.
Simply pop under or on top of your pillow, or carry with you, when you need that calming moment, gently give the pillow a gentle squeeze/ rub together to release the fragrance from the blend inside, take a few deep breath's and relax. A well renowned natural relaxing remedy. 
Exclusive To Us Made By Us Just For You
Copyright © 2016 Mystiques Enchantments - All Rights Reserved.