---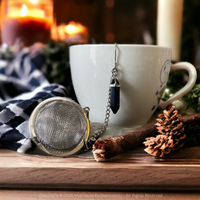 Grounding and Protection: Harness the powerful energy of Black Obsidian in your tea, offering grounding and shielding properties.
Enhance your herbal tea ritual with the protective aura of this beautiful crystal.
Sip in Serenity, Enhance your tea ritual by adding a touch of mystique to your tea with the soothing presence of this beautiful crystal, creating moments of tranquility , while Indulge in the enchanting world of crystal healing with your favorite herbal brew.
Material: Stainless Steel
FOR LIMITED TIME ONLY