---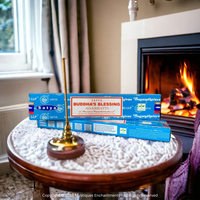 This incense combines the original Nag Champa scent with a Sandalwood aroma. The natural ingredients are perfectly blended to create a sweet, long lasting yet earthly fragrance which will last for hours.
Incense is such a magickal and versatile product.  It has long been used as a smudge to drive away negativity, cleanse sacred spaces and attract good luck, love and wealth. The burning stimulates spirituality and helps to eliminate negative energies by replenishing the air with positive energy.
It can be used for simple meditations or elaborate rituals.  Incense resonates with the element air and helps raise your vibration to create the magical intent you need to bring about your manifestation goals.  This hand rolled Incense is very good for psychic work, meditation and relaxation purposes.
Place an Incense Stick in a proper Incense Burner that is heat resistant.

Light the tip of the Incense Stick, allow the flame to catch, then gently blow the flame out.

Never leave burning Incense Sticks unattended.

Keep out of the reach of children.

Ensure that all ashes fall onto a heatproof and fireproof surface.
Approx 12 Sticks
ANY 6 INCENSE FOR £10 WILL BE DISCOUNTED AT CHECKOUT