---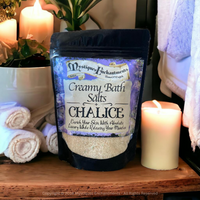 Experience the ultimate of indulgence with our Exquisite Bath Salts - Your Personal At-Home Spa Elixir.

This luxurious blend combines the harmonious aroma that deepens into a rich, earthy tapestry, whispering of ancient, undisturbed forests that ground and center the soul , a potion to refresh the body and spirit. 
As we know Bath salts are not all the same, far from it, which means they are all doing different things to your skin as well as within.

Let's take your run of the mile Bath Salts, they will have different names but the results & ingredients are the same which leaves you with Dried Skin, Itchy Skin, Worsening some skin conditions like acne and eczema, Cramps & more.
Our Creamy Bath Salts are made with your skin in mind. That's why they are so popular & fly out the door. You get the positive powerful Healing Benefits of Pure Dead Sea Salt & Epsom Salts but we add High Quantity Pure Butters, Oils, Moisturising Natural Ingredients as well as Hydrating Agents that counteract the negative effects of the Salts. When you blend them together, You will feel Hydrate, Moisturise, Healed , Smooth while it is Stimulating circulation, improves elasticity , Protects Against Free Radicals, May Relieve Those with Sensitive Skin, just to name a few of the Benefits.
We take pride in the products we make for you. Our Bath Salts are Not out of a factory or mass produced.
They are made with love and care with you in mind with a touch of Magick.
That's Why They Are The Number #1 Creamy Bath Salts everyone loves.
Exclusive To Us Made By Us Just For you
Copyright © 2016 Mystiques Enchantments. Any illegal reproduction of this content will result in immediate legal action.