---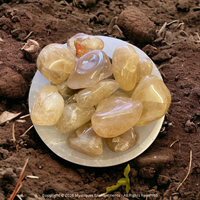 So much of the Citrine for sale today is heat treated Amethyst. Not so with these pieces.
Citrine is associated with positivity and optimism, which is not surprising given its sunny color. It's often used to assist in manifesting financial abundance and opportunities, & used in financial Spells. It can also be used to awaken the solar plexus chakra, helping to cultivate confidence and personal power.
We Use the Energy of Citrine in many of our Magickal Rituals such as in Beltane or Summer Solstice rituals, Abundance & much more.
We Pride Ourselves on Being the Crystal Experts You All Trust. With Generational Crystal Knowledge in regards to their Spiritual, Magickal, & Healing Powers as well as Academic Knowledge & Qualifications.