---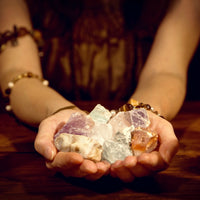 Our Crystal Workshops are Run by Our Crystal Healing Practitioner & Expert, Rebecca.
She brings with her Generations of Practical Knowledge & Years of Academic Qualifications
This Crystal Workshop is like no other & covers everything you would want to know about Crystals.
Come in as a beginner & leave feeling like a fully charged & connected Crystal Expert.

Crystals have been with us through out the ages & are a powerful gift from Mother Earth. They are used Holistically & Technically
Everyone is welcome to learn the science behind their unique structure and powerful vibration.
This Master Class Covers topics such as:
Which Crystals to choose and why. 
Feeling Crystal energy.
The reason why you are attracted to certain crystals more than others.
The most popular Crystals and their special properties.
How to care for your Crystals.
How to charge your Crystals.
How to place you intention into the Crystals.
How to use crystals magickally 
The amazing practice of -Pendulum Dowsing to gain answers and clarity.
Healing the body and the emotions with Crystal energy.
Working with Crystals in Meditation & Rituals 
Chakras & Crystals 
The Practical side of Crystals & how to use them daily 
How to combine them other Charged Elements to amplify your wellbeing 
How to use Crystals for healing & so much more.
With a perfectly balanced way of learning you will receive Information booklet
Bag of Crystals to add to your collection or to get you started on your Crystal Journey & a Magickal Surprise.
Cost: £20
Time: 11am - 3pm
Classes are held at Mystiques Enchantments Belfast
No refunds
Anyone aged under 16 MUST be accompanied by an adult
Copyright
All our Workshops & Classes as well has our Exclusive Products are licensed for your personal use and may not be re-sold or given away to others as your own.
All rights reserved. No part of our Classes Or Products may be reproduced, in any form, by any means electronic or mechanical, including but not limited to photocopying, recording, or any information storage or retrieval system currently in use or yet to be devised. Thank you for your understanding & respecting our copyright.