---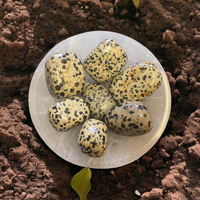 Dalmatian Jasper is a great stone to work with for those who are overly analytical. It helps the over analyser to ground and centre one's self (physical, emotional, intellectual, etc) to maintain balance and connection with the etheric energies.

Dalmatian Jasper helps to harmonise the emotions and assists in maintaining composure, even under the most difficult circumstances. It's a wonderful piece to use when you want to review and reflect on past actions and decisions, so if a similar situation has presented itself, you will be prepared to make a more informed choice.

Dalmatian Jasper cleanses the aura and any other dysfunctional energies, dispels/transmutes negative energy (due to the black Tourmaline inclusions), and protects the user from harm. Use Dalmatian Jasper when you are feeling down and out. It's a great pick-me-up. 

We Pride Ourselves on Being the Crystal Experts You All Trust. With Generational Crystal Knowledge in regards to their Spiritual, Magickal, & Healing Powers as well as Academic Knowledge & Qualifications.