---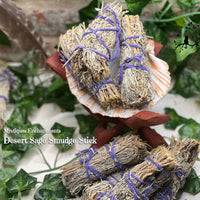 Sacred Desert Sage is traditionally used for Smudging. Purification by smoke. Desert Sage can be considered a Yin Sage smudge. Use for:
Healing
Energy
Cleansing
Drive Away Bad Spirits
Drive Away Bad Feelings
Drive Away Negatives
Draw Wisdom
Draw Strength
Desert Sage has a warm herbaceous aroma that is a bit peppery (think Bay leaves or Mint tea). It is also used for cleansing and purifying, protection, and inner strength. It is said to bring pleasant thoughts and relieve headaches and anxiety.