---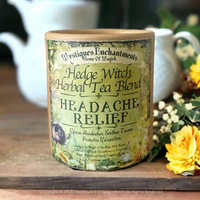 After a busy & Stressful day resulting in a headache, try our Natural Herbal Solution
A perfect Blend with Dandelion & St Johns Wort that's been used as medicine for centuries as a potential treatment for migraine. Traditionally a herb for conditions such as anxiety, insomnia, and depression & relieving headaches.
Mystiques Enchantments is not responsible for adverse allergic reactions or misuse of products. Please ask a licensed physician before using herbal supplements to make sure they are right for you.
By buying this product you have excepted the above.
All Natural 
Exclusive To Us Made By Us Just For You
Container: 300ml
Copyright © 2016 Mystiques Enchantments - All Rights Reserved.