---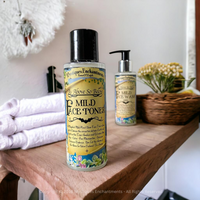 Unlock Radiant Skin with Our Facial Tone from our As Above So Below Range .
Experience the Benefits:
Improved Skin Elasticity
Enhanced Blood Circulation
Reduced Fine Lines and Wrinkles
Relaxation and Stress Relief
With the Subtle Aroma that will transport you to a spa retreat.
Revitalise your complexion and achieve a youthful glow with our facial tone. Discover the secret to naturally beautiful skin today. Mild for all skin types, always do a patch test on any skin products.
Size: 100ml
Exclusive To Us Made By Us Just For You
Copyright © 2016 Mystiques Enchantments. Any illegal reproduction of this content will result in immediate legal action.