---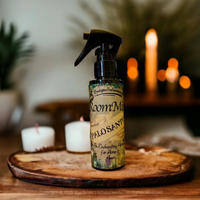 Palo Santo means Holy Wood, also known as Blessing Stick because of its Beautiful Positive Energy within.
This Room Spray is a perfect alternative when you can't burn your Smudging Tools.
For Clearing, Grounding, Protection, Blessings & Luck.
A Warm Woody aroma that's uplifting and refreshing with a hint of spice.
Exclusive To Us Made By Us Just For You
Copyright © 2016 Mystiques Enchantments. Any illegal reproduction of this content will result in immediate legal action.