---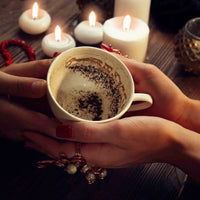 Come & Learn The Ritual of the Magickal Brew Which has been practiced for Centuries by Hedge Witches that knew the Power of Enchanted Botanics & the ancient ways to use them to practice Tasseography or Tea Leaf Reading. Tea leaf reading is based on the concept of directing energy when we focus our Magickal intention on the tea, When prompted with a question, the leaves reveal hidden blockages, offer advice, and even forecast the future. These mystical messages are embedded within the wet leaves' shape, density, colour, and placement.
This is a great Class for everyone wanting to Expand their Magickal World. 

You will receive your own Tea Leaf Booklet to add to your Grimoire Tea leaves to take home Exploring the Why & How of Tea Leaf Reading's
Opening fully to this Ancient Way of Divination to do readings yourself. 
Time: 11am - 4pm 
Mystiques Enchantments Belfast