---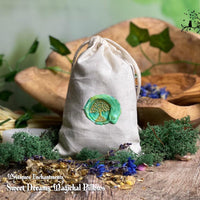 Sleep soundly with this dream-promoting pillow that can be tucked into your pillowcase to help you sleep.
Aromatherapy Herbal Pillows are made with all Natural ingredients of Herbs, Flowers & Pure Essential Oils.
The Herbal & Oil blend is specifically chosen to release an Aroma that will promote calm and send you off to Sweet Dreams.
Simply pop under or on top of your pillow or carry with you take three deep breaths while holding the pillow close to your nose, taking within the benefits of the herbs, flowers & oils.

Exclusive To Us Made By Us Just For You
Copyright © 2016 Mystiques Enchantments - All Rights Reserved.