---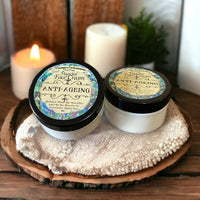 The Best Way to see the Amazing benefits of our Anti Ageing Cream is to use it.
Completely paraben-free, this Amazing Smooth Soft Cream feels like Silk which will protect, restore and replenish what the environment takes out of your skin. With the added well known benefits of Vitamins A & E, Jojoba Oil, Pure Essential Oils & Rosehip oil as well as Pure hemp Oil & much more to slow down the rate of the aging process from within the cell. Our Anti-Ageing Cream revitalises the skin and provides protection against cellular and external environmental pollution. We always recommend using a Sun Screen.
Suitable For All Types Of Skin
Exclusive To Us Made By Us Just For You
Copyright © 2016 Mystiques Enchantments. Any illegal reproduction of this content will result in immediate legal action.