---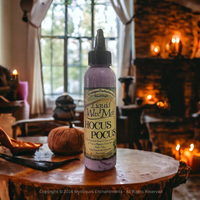 Cast a Spell of Enchantment with Our Hocus Pocus Aroma Liquid Wax Melt!
Step into a world of Magick and mystery with our Hocus Pocus Aroma Liquid Wax Melt. Immerse yourself in the captivating aroma that captures the essence of whimsical incantations and enchanting spells, infusing your space with the allure of hocus pocus.
Let the mesmerising notes of mystical botanics transport you to a realm of wonder and bewitchment, while hints of exotic spices evoke the aura of a spellbinding potion. The carefully crafted blend of scents is designed to resonate with the energy of Magickal rituals, offering you a moment of enchantment.
Watch as our liquid wax melt transforms into a spellbinding mist, releasing the enchanting hocus pocus fragrance into your surroundings. Whether you're seeking to add a touch of Magick to your daily life or enhance your spellwork, our Hocus Pocus Aroma Liquid Wax Melt is your gateway to mystical enchantment.
Elevate your space with the captivating allure of our Hocus Pocus Aroma Liquid Wax Melt. Order now and embrace the Magick of hocus pocus in your home. Let the enchantment begin!
Exclusive To Us Made By Us Just For You
Copyright © 2016 Mystiques Enchantments. Any illegal reproduction of this content will result in immediate legal action.