---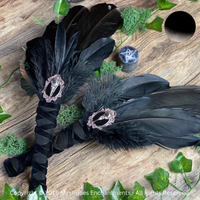 Witches Feather Wand For Clearing and Cleansing Your Sacred Space.
The Black Feather symbolises Protection & Magick. It's believed using these feathers to clear your space the spirit of the bird is called to come through to help cleanse, connect and protect you & your home. The Raven is the Talisman of a guardian & help connect you with Ancestors of old as they are spiritual birds that see both worlds and poses magickal powers.
Size: 35cm
Exclusive To Us Made By Us Just For You 
Copyright © 2016 Mystiques Enchantments - All Rights Reserved.