---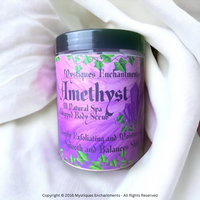 To cleanse & Clear the blockages of the day & reconnect to your inner power.
Perfect for healers involving psychic awareness and channeling into their practice such as reiki healers, tarot readers and mediums. To allow the Creative and artistic side of you to emerge Take advantage of the this Amethyst Infused Scrub using it to facilitate divine inspiration and creativity.
Our whipped scrub with shea butter, Dead Sea Salt, Sugar, Natural Oils & Magick is perfect for all year when skin dries in harsh conditions. The butter and oils restore moisture, while the sugar & salt exfoliates the skin, leaving minerals with every stroke. Using our whipped body scrub regularly will help keep skin soft and smooth all year long.
Comes with 1 Amethyst Crystal
Exclusive To Us Made By Us Just For You