---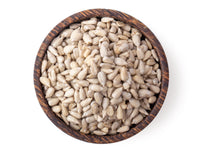 The sunflower has long been associated with solar energy, and summer months because it's bright head looks like our own bright cosmic sun. Celebrate Summer Solstice by using the joyful and abundant energy of the Sunflower Seeds.
Use in loyalty and lifelong relationships rituals
Use in Bath Rituals for healing.
The abundance of the sunflower's seed production make it a premium ingredient in fertility rites. (For ethical issues associated with fertility magick, Include the seeds in mojo bags for fertility or keep a jar near the marital bed when trying to conceive.
Our Herbs are Perfectly Collected to Protect the Energy for your Magickal, Spiritual, Health & Healing use. 
Prepared by our House Witch.