---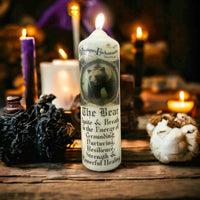 Ignite & Embrace the steadfast strength of The Bear Spirit Animal Candles & capture the essence of the bear's courage and quiet power.
Light the way to grounding & resilience, perfect for peaceful meditation and undisturbed contemplation.
Size: 16.5cm x 5cm
Burn Time: 36 hours
No Scent
Exclusive To Us Made By Us Just For You 
Copyright © 2016 Mystiques Enchantments. Any illegal reproduction of this content will result in immediate legal action.